 Free Shipping Science Backed 30-Day Guarantee
Easy Returns
Fall Asleep Faster

Dusk, with its powerful blend of beyond organic herbs, including a custom designed hemp varietal, reduces overall sleep latency (time from head on pillow to initial sleep onset).


Fewer Wake-Ups

With Dusk, you'll experience fewer wake-ups throughout the night, allowing you to get deep, uninterrupted sleep.

 

Wake-Up Refreshed


Unlike melatonin or pharmaceutical sleep aids, Dusk, with it entourage of beyond organic herbs, including skullcap, tulsi, and chamomile, ensures you wake up feeling refreshed and rejuvenated, free of morning grogginess.

 

Non-Habit Forming

Unlike many sleep aids, Dusk is non-habit forming, making it a safe and effective option for those looking for a natural way to improve their sleep.

 

Long-term Safe

Dusk is safe for long-term use, providing you with the benefits of restful sleep without the risk of harmful side effects.

 

Improves Overall Brain Health

Dusk not only helps you sleep better, but it also improves overall brain health. Its blend of beyond organic herbs, including skullcap and tulsi, have been shown to improve cognitive function and overall brain health.


 

Increases Time in REM & Deep Sleep

Dusk helps you sleep deeper, increasing the amount of time you spend in REM and deep sleep. This deeper sleep allows you to experience the restful sleep you need to recharge and rejuvenate.

 

Lowers Nighttime Restlessness

Noma Dusk helps lower nighttime restlessness, allowing you to fall asleep faster and sleep more deeply. Its blend of beyond organic herbs, including passionflower, chamomile, and cacao, help lower anxiety and promote restful sleep.

 

Reduced Aches & Soreness

Dusk's custom hemp varietal and blend of beyond organic herbs, including yarrow and licorice, have soothing properties, reducing aches and promoting overall health and wellness.

 

Sonoma County Heritage

Noma is proud to be part of the rich heritage of Sonoma County, California, a county synonymous with exceptionally high-quality plants — including the some of world's finest wine, cannabis, and hops.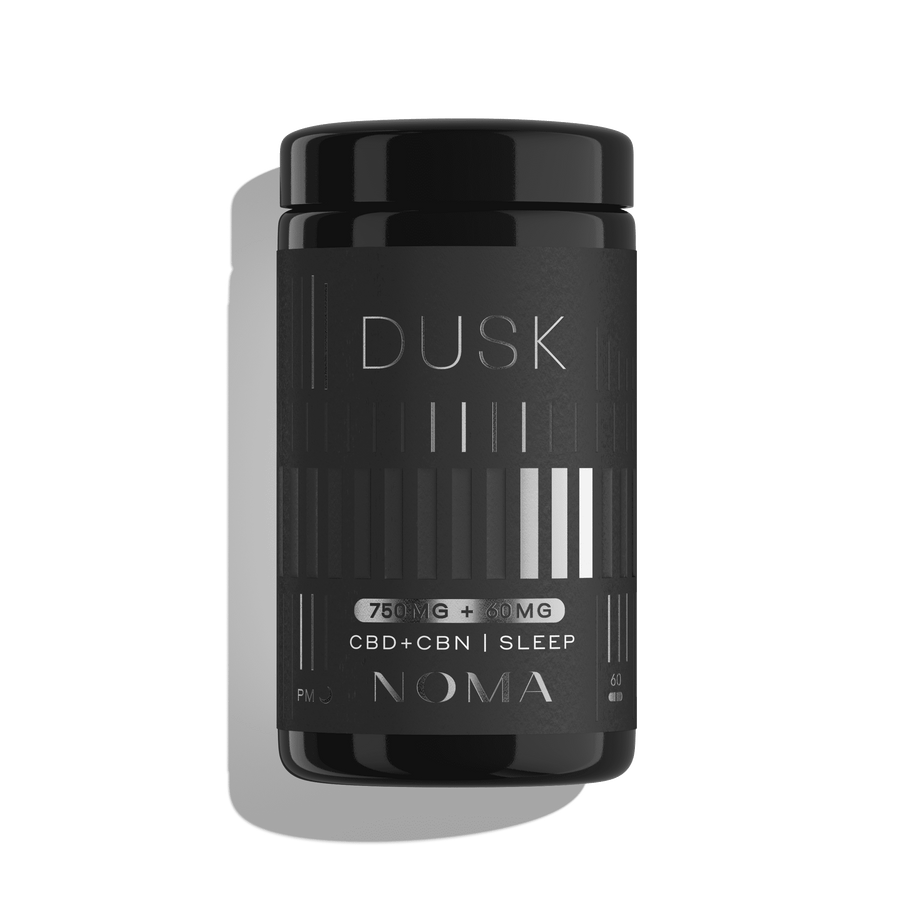 Benefits
Soothe
Alleviate aches and pains to feel better in your body.
Relax
Ease your outlook and balance your nervous system.
Sleep
Fall asleep easily. Wake up fully refreshed.
Move
Support muscle recovery so you can move with more freedom.
Botanicals
Relaxation Complex (610mg)
Eases nervousness and enhances your body's natural response to stress. Soothes the mind and relaxes the nervous system for a deeply restful evening.
SKULLCAP - TULSI - OLIVE OIL
Sleep Complex (610mg)
Feel deep relaxation with this dreamy blend. The relaxing sedative qualities help you effortlessly drop into a deep sleep, and even promote pleasant dreams.
CHAMOMILE - PASSIONFLOWER - OLIVE OIL
Restoration Complex (320mg)
Strongly support your muscular recovery and regeneration. This body-balancing blend helps your body bring down inflammation and rebuild tissues while you sleep.
HEMP - YARROW - LICORICE - CACAO
Total 5 star reviews: 38
Total 4 star reviews: 5
Total 3 star reviews: 0
Total 2 star reviews: 0
Total 1 star reviews: 0
100%
would recommend this product
Amazing

These have been a game changer for me. I've suffered from insomnia for years and tried just about every sleep aid on the market with no success. I finally decided to try this and Wow! I am sleeping better than I ever remember. I take one pill about 30 minutes before bed and it works in about an hour. No drowsiness during the day at all.

Works Great

I take one capsule right before bed and sleep through the night. Been using it for weeks now.

My favorite cbd product!

This is my go to CBD product when I need a little help getting to sleep, or if I've had too much caffeine that day. Works great!

Helps with my insomnia

It's been a long time since I have had a decent nights worth of sleep. I got off the prescription pills and have been trying to control my insomnia with diet, exercise and meditation. This product really helps me feel relaxed and fall asleep.

Finally an effective way to fall asleep

I have been taking Dusk for a little over a month now. I was using melatonin until I found out that it wasn't safe for long-term use. Dusk has been the perfect solution for me. It helps me fall asleep fast, and stay asleep through the night. When I wake up during the night, it takes about 20 minutes before I'm able to fall back asleep again.
Reviews Loaded
Reviews Added